Gorak shep to Kalapatthar distance, weather and elevation
Gorak shep to Kalapatthar distance is 1.2 kilometers. Hiking to Kalapattar is worth to see the impressive view of Mount Everest, glacier, lakes and surrounding snow covered peaks. Travelers are generally astonished and awe-struck after seeing the world's highest peak with their eyes. The mesmerizing beauty of Khumbu region, gives the amazing memories and pleasure forever. Most of the trekkers hike to Kala Patthar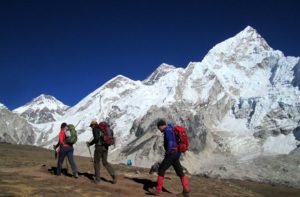 early in the morning around 4:30 am to see the sunrise view. Morning hiking is chilly cold. If you spend about 1 hrs on the top of Kalapatthar then sun start to beat the mountain areas and going warm slowly. Some people go to see the sunset also but it very windy and difficult to walk. If you have rest day at Gorakshep then start trek to Kalapatthar at 7:30 AM to get the incredible view of Mount Everest from Kala patthar.
Notable landmark the black rock or Kalapatthar situated on the south ridge of Mount Pumori. It takes long to go to the black rock but you will be back quickly. Gorak shep to Kalapatthar trek distance is about 2 to 3 hours. During the Kalapatthar hiking people go to a walking distance to see the Everest's top. The elevation of Kalapatthar is 5550 meters / 18208 feet above sea level. Kalapatthar is the highest point of classic Mount Everest base camp hiking trips to Nepal the Himalayas. An experience of a lifetime Kalapatthar hiking is one of the hardest climbs on the trek. Mount Everest can not visible from Everest base camp.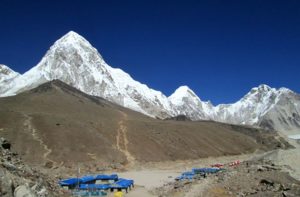 The way the view of Everest and Khumbu Glacier from the Kala Patthar summit offers incredible panorama embrace Pumori, Nuptse, Changtse, Ama Dablam, Taweche, Kantega and Mount Everest.
Gorak shep to Kalapatthar trip is the incredible hike for adventure lovers. The people having a passion for mountain sports find this place as heaven on earth. We are local mountain guide of Nepal organize verity of trekking tours in Khumbu region. If you interested to go to Everest base camp, Kala Patthar, Cho la pass, three pass, Gokyo Lakes, Chhukung valley write us to advice from expert. We are open to answer all your queries with generous and genuine information.