Lobuche village – Dingboche to Lobuche distance, weather and elevation
Dingboche to Lobuche distance is 10.7 kilometers. Step uphill trek from the Thukla to memorial park, is the most difficult part in whole EBC trek. Dingboche to Lobuche trek has points which are mesmerizing views of nature's beauty. In this way most of the trekkers ignore and forget about this short tough walking distance, difficulty. The elevation of Lobuche village is 4910 meters / 16109 feet above sea level.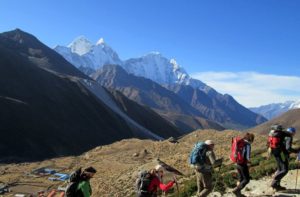 During the trek to Mount Everest base camp, you will come across the Dingboche and Lobuche village. This point of the trek will mark your journey to Mount Everest base camp even closer. Dingboche to Lobuche trek distance is about 6 to 7 hours. From the Lobuche village you can see the whole Khumbu glacier also.
While heading towards Lobuche village, you will find snow covered mountains around you. Thukla falls on the trek to Lobuche and is a climber's memorial park stop. You can find pictures and souvenirs for the people who never climbed back from the highest peak Mount Everest. There are many things to remind you of the people who loved the mountains and now live in them for forever. This place has many prayer flags for the many brave mountaineers. Once you have reached to Lobuche, you can spend a night there. Travelers can go to Everest base camp and Kala Patthar then back from Lobuche when they cannot find the room in Gorakshep or afraid to sleep high altitude above 5000 meters.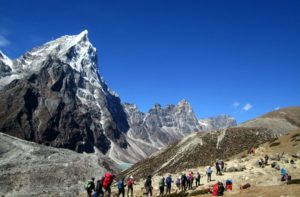 Visit the memorials to Scott Fischer, enjoy stunning scenery, Khumbu Glacier and landscapes. The Lobuche village will be your second last resting point before Gorakshep and Everest base camp. Before the lunch break, you should be reaching Thukla. The flat trek after Thukla is not very happening as it is a steep climb and you have to keep all the courage to make it to the highest peak base camp. If you feel any necessary changes to Nepal Everest trekking itinerary and for any queries please do not hesitate to contact us. We are heartily open to assist you with the matter.