Everest base camp – Day tours
One of the most magnificent journeys of all time is taking the helicopter flight to Everest base camp. The scene of the magnificent snow -capped peaks you will witness at the end of the day helicopter ride to Mount Everest is truly mesmerizing and will leave you awestruck. Have fun on the helicopter flight to Everest base camp from Kathmandu.
Everest base camp day tour by helicopter allows you a scene of the amazing and wonderful vistas of the great Himalayas from the overhead. There are a range of destinations covered by these helicopter trips thus making them one of the most wanted choices for all those people who wish to witness something pleasing and beautiful and want to share the happiness with their loved ones and their friends.
Everest base camp helicopter tour takes place from Kathmandu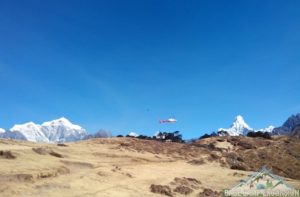 The Everest base camp helicopter tour takes place from the airport at Kathmandu through a helicopter which will be moving in an east direction as it will be flying in a direction which is parallel to that of the Himalayan range of mountains. You will thus be allowed a magnificent view of the peaks of the Himalayas. Morning time is the best to discover the Himalayas scenery in this way we organize Everest base camp helicopter tour in morning. Minimum 2 pax required to book and run this trip. Helicopter lifts only 3 passengers at once from Everest base camp due to high altitude. If you are alone write us to get the space to join a group.
Helicopter ride to Mount Everest base camp day tours itinerary
7:00 A.M: Wake up, freshen up
7:15 AM: Breakfast at hotel
7:30 A.M: Our representative meets you at hotel then transfer to airport for EBC helicopter flight. After exploring Everest base camp 5360 m you reach in Kathmandu total duration 3 to 4 hours.
10:30 Flight back to Kathmandu airport, then transfer to hotel
Everest base camp helicopter trip includes various stops for magnificent views
There will be a stop at Lukla for the purpose of fueling the helicopter. Then you will be straight flown to airstrip which is in Syangboche at a height of 12,340 ft. so that you can enjoy some breakfast at the hotel Everest view. From this spot, you will get helicopter tours which will take you sightseeing closer to the Everest as well as all the other mountains of the mighty Himalayas namely Pumori, Amadablam, Number and ChoOyu, which is in the Khumbu area.
List of Everest trekking packages including day tour to Everest base camp by helicopter for reference enjoy Kathmandu to Everest base camp helicopter tour in Nepal & see Everest without trekking.

Everest base camp trek, 9 days, 10 days, 12 days, 14 days
Mount Everest view trek, 5 days, 7 days
Gokyo lakes trek
Everest Cho la pass trek
Everest base camp trek via Jiri
Luxury Everest base camp trek
Everest three pass trek
Ama Dablam base camp trek
Phaplu to Everest base camp trek
Gokyo to Renjo la pass trek
Helicopter tour to Everest base camp, flight landing at base camp
Finally helicopter landed at Everest base camp about 10 to 15 minute to take picture and explore around. Then helicopter fly back to Kathmandu exploring the amazing views of Himalayan peaks.
Oxygen will be provided at the Mount Everest helicopter tour from Kathmandu
The Mount Everest helicopter tour from Kathmandu will also give you a supply of oxygen which you might require while flying in the high altitudes.
Thus take on the Everest base camp day tours by helicopter and have the time of your life while you witness magical scenes in front of your very eyes. Now you are clear about Day helicopter ride to Mount Everest enjoy wonderful day trip to Everest base camp from Kathmandu