Where is Mount Everest located in the world map
Do you know what country is Mount Everest located? Everest is precisely situated in Mahalangur Himalayan Range close to the border between Nepal and China. Most often, Nepalese call it by the name of "Sagarmatha". The name "Everest" was attributed after the name of famous surveyor Sir George Everest. Many attempts were reported after the official opening of Nepal to foreigner for climbing in 1951, however, Sir Edmund Hilary (New Zealand) and late Tenzing Norgay Sherpa (Nepal) were first to accomplish a successful ascent to the summit on May 29, 1953. Everest is situated on the border between the countries Nepal and Tibet and is a part of the Himalayan Mountains of Asia. The Mount Everest is basically on the summit which is directly in between Tibet and Nepal. There is definitely no place in the world as spectacular as the Khumbu region Nepal. Where is Mount Everest located with respect to world map. This is where four of the tallest peaks in the world are nestled, including Mt. Lhotse, Mt. Makalu, Cho Oyu and Mt. Everest.
Where is Mount Everest located in the world map lets go to explore by doing given trip to Himalayas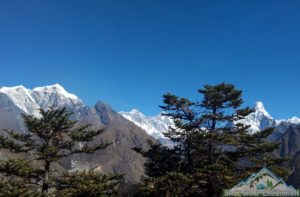 Everest base camp trek, 9 days, 10 days, 12 days, 14 days
Mount Everest view trek, 5 days, 7 days
Gokyo lakes trek
Everest Cho la pass trek
Everest base camp trek via Jiri
Luxury Everest base camp trek
Everest three pass trek
Ama Dablam base camp trek
Phaplu to Everest base camp trek
Gokyo to Renjo la pass trek
It is the tallest mountain in the world
This mountain is said to be one of the most prominent and tallest mountains in the world with a massive height of about 29035 feet above the sea level. The Himalayas in Asia is said to have the highest range of mountains in the world and is spread across six countries which are India, Nepal, China, Pakistan, Afghanistan and Bhutan.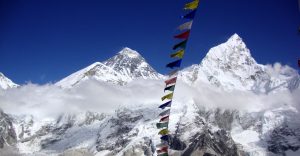 Now where is Mount Everest located in the world map exactly – where is Everest and how much does it basically cost to climb this mountain? Well, it is quite an expensive affair, but that does not stop people from wanting to pursue the expedition.
How much does it cost to climb the Everest?
The price tag is quite a hefty one as it needs you to pay for equipment, guides, oxygen, Sherpa, fees to get a permit and also money to get yourself support while you are at the base camp. It amounts to almost 35000 dollars to 75000 US dollars.
That is not all. You also need to keep some money or fund with you in case you might require a helicopter service for the purpose of an emergency that might require immediate evacuation.
What are the two routes for climbing Everest?
Where is Mount Everest located? There are two ways to actually climb the Mount Everest as the mountain is situated in between Nepal and Tibet.
The First route involves taking the north ridge which is the Tibetan side whereas the other route involves you to take the southeast ridge or the Nepalese side.
The second route which involves you to take the Nepalese side of the southeast ridge is considered to be the easiest and less complicated of the two mainly for two reasons mainly political and mountaineering reasons.
The best part of this expedition is that it does not require any form of technical degree or expertise from your side. Climbers from around the world go to Khumbu region to scale the highest peak. Trekkers have dream to reach the base camp of Mount Everest. The Everest base camp trek is considered to be the most intense and grandest walk in the Himalayas land. If you have the desire to come, explore and go trekking Everest base camp, it would be ideal to visit the place on the best season. We organize best trip to show you where is Mount Everest located with respect to world map? If you interested to discover Everest trekking region write us. We will help you to make successful trip to Everest.