Namche bazaar to Lukla – Lukla to Namche bazaar distance and map
Lukla to Namche bazaar distance is 17.7 kilometers. Lukla to Namche bazaar in one day is not recommended for all beginners and first time trekkers to Khumbu region. It is dangerous to cross this huge elevation without taking a rest in between. It is difficult to go to Namche Bazaar from Lukla on Arrival day but when you come back from Everest base camp trek then it is easy to trek from Namche bazaar to Lukla, Nepal.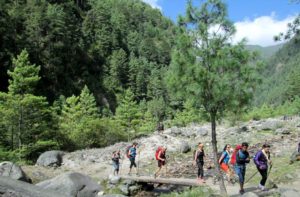 Namche bazaar to Lukla trek part is not easy but you feel easy because you are coming back from Everest base camp and hurry to fly back to Kathmandu to meet the friends and family.
Namche bazaar to Lukla trek takes 7 to 8 hours to complete along the Dudhkoshi River. The first part of Lukla to Namche bazaar trek till Larja Dobhan flat and short up and down. After crossing suspension bridge at Larja Dobhan the step uphill walk till to Namche bazaar. Namche bazaar to Lukla walking experience throws pine forests, hamlets and crop field with the views of mountain like Kusum Kangru, Khumbila, Tawoche and Thamserku etc. When you reach Lukla, you will be extremely exhausted. However, you will be able to do, see, enjoy and get a great amount of amusement and entertainment at Lukla Nepal. Namche bazaar to Lukla trek can be considered as one of the best phases that you will surely enjoy.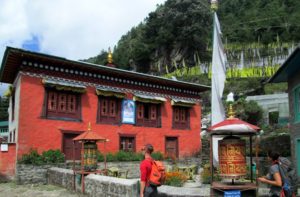 Namche bazaar to Lukla downhill walk quite difficult to perform, it will put a huge effect on your knees while trekking. Though the trekking of Namche bazaar to Lukla will be little hectic for you, this phase will give you ample opportunities to enjoy the natural beauty of the mountain. The greenery, dense forests, plenty of fountains and many other natural beauty elements will surely attract your eyes. The calmness of the whole place will surely like you. You will be able to see the glimpse of the Mount Everest covered with snow. With a fantastic weather, the hike in this range is also fabulous and plenty of people have experienced extreme tiredness after completing Everest trail. We are local trekking company Nepal organizing Nepal trekking tours in the Himalayas. If you interested to discover Everest trekking region write us we are happy to organize Everest base camp trek, Cho la pass trek, Three pass trek, Renjo la pass trek, Everest view trek, Gokyo lakes trek as per your desire.
Save