How long does it take to get to base camp Mount Everest
If there is anyone out there who thinks that just stepping foot on the Mount Everest is absolutely wrong. Going just to the foothills of the Mount Everest or rather what is called the base camp is just the same? This is like a mini expedition. It gives you a taste of what it would feel like to be on top of Mount Everest. The atmosphere is almost going to be the same. You are going to be pushed to your extreme limit.
It is definitely going to make you think whether you have made the right decision signing up for having such an experience. Now, there are many who might have questions regarding the base camp? Read this article thoroughly and all your doubts are going to be questioned.
Packages shows you total duration to get to base camp listed below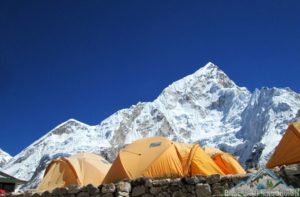 Everest base camp trek, 9 days, 10 days, 12 days, 14 days
Mount Everest view trek, 5 days, 7 days
Gokyo lakes trek
Everest Cho la pass trek
Everest base camp trek via Jiri
Luxury Everest base camp trek
Everest three pass trek
Ama Dablam base camp trek
Phaplu to Everest base camp trek
Gokyo to Renjo la pass trek
The first step towards Mount Everest base camp
Questions like how long does it take to get to base camp of Mount Everest often haunt the mind of climbers. Once you have got yourself verified and checked, your next step would be to meet the mountain guides and the Sherpas, who will be carrying your stuff alongside you.
Your journey is going to begin the very next day depending on the weather conditions. You will have to take a short trip of about 40 minutes to Lukla. Duration of Mount Everest base camp trek start from 12 days to 17 days depends on the traveler's choice. must of the travelers in Khumbu region prefer 12 days trip
How high is Everest base camp
Questions like how long it will take to climb Mount Everest and how long it will take to each base camp of Mount Everest is a frequently asked question. The 12 days time includes two-day rest and continues trekking after which you will reach the Mount Everest base camp which is at an astonishing height of 5,360 meters. Words cannot express how you are going to feel.
What happens next?
Right after you have reached the Mount Everest base camp, do not start expecting a camp that is full of mountaineers who waits to ascend the Mount Everest. This is reserved for only those who are one of the best mountaineers of the world.
What do you need for Everest base camp packing list
You need to have a few essentials gears with you. For instance, your sleeping bag and a bag full of dry fruits and snacks. The last thing you want is to get killed by hunger and nausea these happen to a lot of people. However, a determination is the constant force that will allow you to carry on.
Beside that you have to have guide and porter arrangements throw best adventure company. Mow you are clear Learn how long does it takes to reach base camp of Mount Everest. We organize Everest base camp trek as per your desire and duration of holidays. Do not forget to see the optional Everest base camp trek itineraries then write us.