How much to tip Everest base camp trek for Sherpa, Guides & Porters
To go to the Everest base camp trek you will book full board package, service package or hire guides and porters according to your budget and suitability. No matter which types of service you choose but you have guide, porter and Sherpa to assist you during trek. If you already travel Nepal then it's easy for you to decide the tipping for guide porter and Sherpa's. But for first time trekkers may not be knowing how much to tip guides and porters. With this article we are going to make you clear how much to tip Everest base camp trek.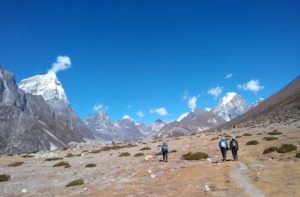 Everest base camp guide tipping is a very tricky affair and the visitors must be very careful while dealing with the guides and porters. Tips are also paid as a token of appreciation of the excellent service provided by a worker. In such cases the tips can be in the range 10 to 12% of the trip cost or service charge. The best way of EBC trek tipping guides and porters is to give the tips amount directly to the particular worker so as to ensure that the worker who deserves the tips gets the same.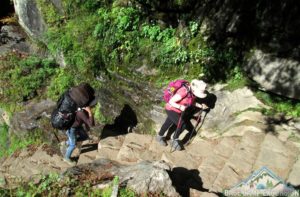 Exactly the quality of service provided by the guides and porters ensure the sum of tip. By way of providing excellent service the guides and porters expect tips from the tourists. It is not mandatory it's your responsibility. Normally, the tips paid to the guides are marginally higher than the tips paid to the porters.
Most of the guides and porters in Nepal are underpaid and tips paid by the tourists form the major part of their livelihood. Tourists organize farewell dinner in Lukla after Everest base camp trek together with guide and porters to handover the tips. I think now you are clear about how much to tip Everest base camp trek. Still you are confusing about Everest base camp guide tipping rates you can ask the representative of agency before start the trekking.
List of awesome Everest area discovery packages with Sherpa guide and porter; enjoy your time in the Himalayas.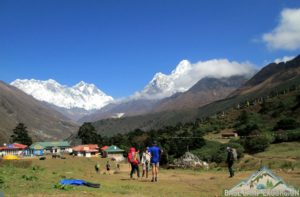 Everest base camp trek, 9 days, 10 days, 12 days, 14 days
Mount Everest view trek, 5 days, 7 days
Gokyo lakes trek
Everest Cho la pass trek
Everest base camp trek via Jiri
Luxury Everest base camp trek
Everest three pass trek
Ama Dablam base camp trek
Phaplu to Everest base camp trek
Gokyo to Renjo la pass trek