Nepal travel advice & important tips what to know before traveling to Nepal
Check travel advice on advisories for Nepal before traveling to Nepal. It helps you to make your journey risk free and memorable forever. Nepal travel information with inspiration story provides you the knowledge about the things you must know before you go.
Is it safe to trek alone to Everest base camp?
It is not good to trek in the Himalayas alone, still people trek on their own risk. Many individual trekkers are missing on the trail each year. It is safe to travel Nepal alone but trekking alone in the Himalayas or Everest base camp trek alone is not recommended.
What to do when Porter, Dzo, Donkey and Yak crossing on way to Everest base camp
We advice all trekkers to stand on the mountain side of the path always while crossing Dzo, donkey, yak, porter and other trekkers on trail.
Do you need guide and porters for the Everest base camp trek Nepal
Yes, it is necessary to have a guide and porter for safety and security to do Everest base camp trek.
How to reach Mount Everest base camp from Kathmandu
There are different options to reach Everest base camp from Kathmandu.
1, Flight from Kathmandu to Lukla then trek to EBC
2, Flight from Kathmandu to Phaplu then trek to Everest base camp
3, Drive from Kathmandu to Jiri then trek to Everest base camp
4, Drive from Kathmandu to Salleri then trek to Everest base camp
Nepal travel advice with packages, important tips and information for travel to Nepal.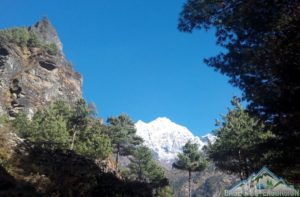 Everest base camp trek, 9 days, 10 days, 12 days, 14 days
Mount Everest view trek, 5 days, 7 days
Gokyo lakes trek
Everest Cho la pass trek
Everest base camp trek via Jiri
Luxury Everest base camp trek
Everest three pass trek
Ama Dablam base camp trek
Phaplu to Everest base camp trek
Gokyo to Renjo la pass trek
Do I need a visa to go to Nepal?
Except Indian need visa to go to Nepal
Everest base camp trek advice
Nepal is one of the safest places for travelers. It is important to take care of your belongings. It is not good idea to easily trust people although they might seem friendly. Do not travel alone in Kathmandu till late night. In case of emergency you can dial 100 to call the support of Nepal police. Everest base camp trek you are with guide and meet many friends. You don't have to worry for safety and security. Follow the tips and Nepal travel advice to make a successful trek to Everest base camp in Nepal the Himalayas.